See on Scoop.it – MOOCs and me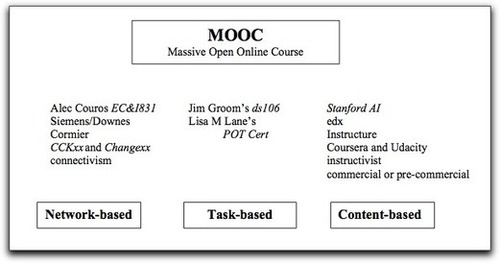 Keith Brennan's insight:
Nice intro to MOOC types from Lisa (http://lisahistory.net/) detailing three types of MOOC.
Network based, which is the Etmooc type, which is socially constructive, focused on networks, conversation, and socially constructed knowledge. Learning outcomes are difficult to measure, and skilS and content are less important.
Taks based, emphasizing skills acquisition. Community and peer work are important here too. So, once again constructivist, but also constructionist. It's socail knowledge, but it has a learning by making aspect, and, I guess, also an instructionist aspect – a degree of teacher centrality.
Content-based MOOCs, the ones from MIT and Harvard with big enrollments, and press exposure, are based around content, and content access. Community is, according to Lisa difficult (I haven't tried one yet). That said, there's no specific reason (apart, perhaps from having to fund resources) why it should be so.
Thanks Lisa.
See on lisahistory.net